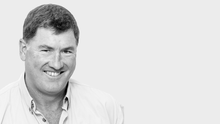 Rural Sales Specialist - Bathurst
Stewart joined the team in 2011 as a rural sales specialist based between the Bathurst & Oberon offices. Prior to a career change to Real Estate, he spent 9 years managing "Mayfield" in Oberon and has had over 25 year's experience managing large grazing properties in the tablelands area. Stewart brings to Ray White Emms Mooney the practical skills to enhance the rural sales team in the Central Tablelands. Stewart has a wealth of rural knowledge and looks forward to assisting you with all your property requirements. For more details go to www.raywhiteemc.com or call Stewart on 0427 363 118.
Agent Reviews
Phe

Stewart was fantastic to deal with. He communicated thoroughly, kept me up to date and following the purchase maintained support, which was greatly appreciated. He went well beyond the service required.